Our culture misses a big opportunity for health and harmony by not acknowledging that we are derived directly from the food we eat. We tend to look at food as fuel, when really that is just a tiny component of what it actually is and does. The food we eat directly builds the cells in our bodies.
Assuming that we want the healthiest cells, we need to eat the healthiest foods. Think about it. The cells are the foundation of your being. Would you want cells built from fast food fries or from fresh, organic whole foods? It's really a no-brainer.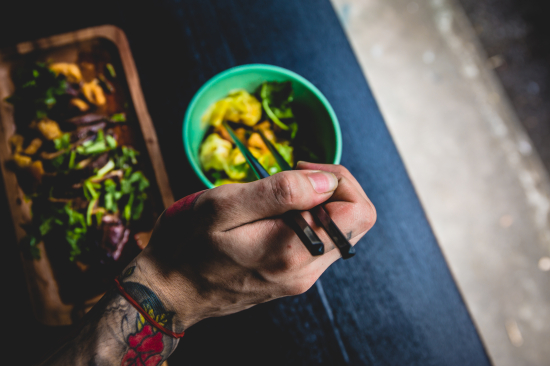 © Lily Lvnatikk/Unsplash
This is why the topic of GMOs is so hot in the health (not health-care) community. GMO "foods" contain cells that have been altered at the level of their DNA. These "foods" are also created so that they cannot reproduce themselves. You have to go back to the supplier every year for the seeds. What kind of cells are we building with that food? We are creating a body full of mutant cells that cannot reproduce itself. There is a lot of research being done on the connection between GMO foods and infertility.
When you ingest real, clean food, you are building a strong foundation. You are creating energy and prana in your system—strengthening yourself from the inside out, as opposed to the outside in. There are so many fitness-oriented people ingesting protein powder laden with chemicals, all kinds of processed junk, as well as pesticide- and hormone-ridden food. This makes the strength you appear to have false. You have to keep fueling yourself from the outside because your tank is on empty on the inside all of the time. In fact, my gym has not one, but TWO junk-food machines!
The most important nugget that I've gleaned in all of my years of studying is not at all part of our food and family culture in the United States is... Are you ready?
When families eat the same food, it creates harmony.
Whaaaat? It's true. You are all bringing the same energy into your body at the same time. This creates a level internal playing field in terms of what you are ingesting and digesting, as well as the energy created by it. (Granted family mealtime without a tv or device is ideal, but even on the days where this doesn't seem feasible, if you are all eating the same food, there will be more harmony.)
I encourage you to play with the ideas presented in this blog. Experiment for yourself and see how these things affect you and your family. That's what I do. I only present ideas that I haven't tried and found to be true myself.
Here is an easy recipe that can start your family off eating cleaner and the same energy: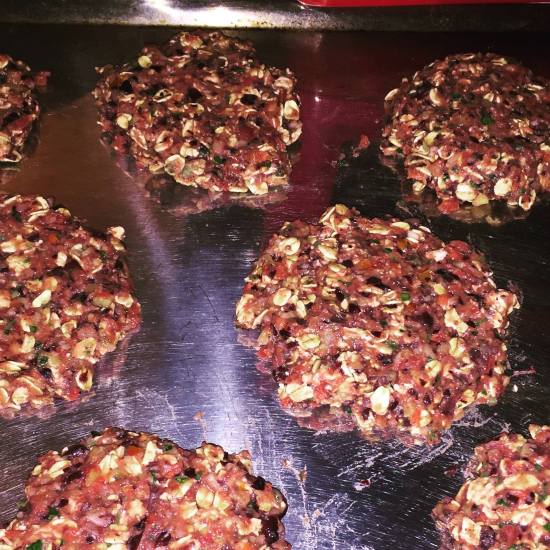 Quick and Easy Black Bean and Oat Burgers

(Vegan and GF)
Total Prep and Cooking Time: 30 min.
Number of Servings: 8-10
Ingredients
1 15 ounce can black beans, drained and rinsed
1 14.5 ounce can diced tomatoes, drained (or the equivalent of fresh tomatoes)
1 cup fresh cilantro or parsley leaves
1 garlic clove, minced
1 tsp ground cumin
1/2 tsp salt
2 scallions
2/3 cup chopped carrots
1.75 cups gluten free rolled oats
Directions
1. Preheat oven to 400 F.
2. Process the first 8 ingredients until blended. Transfer to a bowl and mix in the oats.
3. Form into 8-10 patties and place on baking sheet. Bake for 10-15 minutes until firm to the touch. Carefully turn patties over and place under the broiler for 1 - 2 minutes until browned.