It's incredible how quickly our perception can shift when we allow the time and space for it to do so.
Last week, I had the opportunity to observe this in my own life during a whirlwind trip to Spain. I took a flight on which I was served two vegan meals. (YES! Meals on a plane!) By some miracle the airline actually got my food preference memo. This had not happened in years!
On my way out of the U.S., I was impressed by the quality of the food. For airline food (and vegan, no less) I thought it as great. There was a meal of rice and actual vegetables, and then a cucumber, tomato, and lettuce sandwich. I arrived in Spain telling everyone about this small miracle.
However, I am currently on my flight back, and I think Spain might have ruined me in all of the best ways. Having spent the entire week eating all of the typical dishes made vegetarian or vegan and from the freshest local foods, I filled myself with prana covered in the most divine olive oil. Now, my airplane meals look dead and lifeless.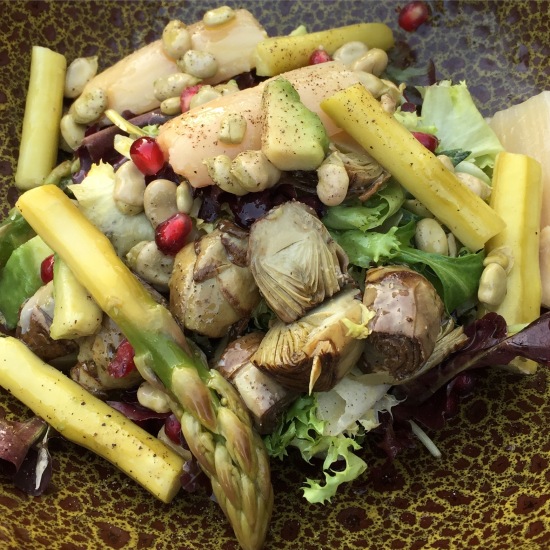 Spaniards have a food culture, a culture of sensual pleasures in general, which feels really in line with where I am in my life right now. I realized that THIS is exactly what I craved during my Spring cleanse this year—to be immersed in a culture that values pleasure and treats its food with reverence. There is a sense of awe, mastery, pride, pleasure, and gratitude that is evident in each bite.
This week, Food was a celebration rather than something to be ingested to keep me alive before I moved onto the next thing. Each meal was eaten with people I love while laughing and sharing for hours. I am already missing this and have only just entered American airspace.
I would like to think that I can bring these principles back with me. I try every time I am Europe. The thing is, American food culture is not set up this way because it is largely based on speed, science, and chemicals with very little appreciation for (or caring about) what you are eating. There is far more focus on feeling full or what benefits the "food" can provide. We eat strategically or from a very mind-centered space whereas I have just spent a week eating from a very heart-centered and sensual place. Which sounds better to you?
For me, this shift only took one week. ONE week! Though I'm not sure how long I will be able to honor this intention, all I can think is, "Thank God my CSA starts this week!" At least I will be able to move forward from here with the freshest ingredients I can possibly begin with.