Watching someone you love go through a hard time can be painful and upsetting, especially when you can feel what they are going through or intuitively know what they need. I'm not talking about coming from a place of judgement or your own experience. I'm talking about genuine intuitive knowing of and feeling into what they need to make the situation better.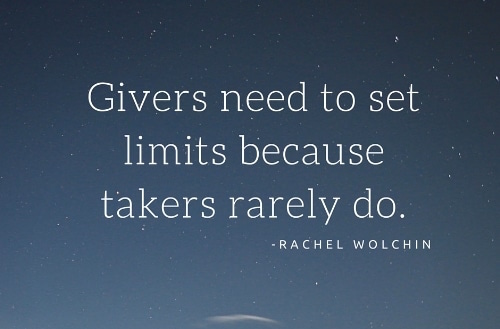 For those of us who are empathetic, watching another unravel and witnessing their unwillingness to make changes is even more painful than going through the situation ourselves. We are not only feeling their pain, but we feel completely powerless to do anything to change it. We see the path that will lead them to happiness and peace, but cannot force them to walk it.

So many people that I know (myself included) have at some point been so deeply affected by another person's pain that we have become shells of ourselves, doing everything in our power to help them to the point of our own depletion. One day, we look in the mirror and don't recognize ourselves anymore. We are super thin or holding a lot of weight, not sleeping, not taking care of ourselves—health, hair, skin, etc.

While it is true that we need to give another the dignity of his own process, it is not true that we are completely powerless.
Here are 5 things that I've found help me maintain my peace and balance in the midst of someone else's insanity, in no particular order:


Let him know that you Love him no matter what. Let him know that you are always going to Love him, no matter what choices he makes. It really helps each of us to know that there is one person out there who will not judge us and will be there if and when the bottom drops out.


Keep your mouth shut. (This includes your energy.) Really. Keep your mouth shut unless asked for your opinion. This will prevent you from getting swept into the whirlwind of he said, she said. IF you are going to say something, say it directly to the person, and not behind his back.


Pray and send positive thoughts, whatever this looks like for you. Pray for the best possible outcome for the person. Note: What you think is the best possible outcome might not be right for him. Be open to what the Universe has in store and let go of your limited perspective.

If prayer is not your thing, send Love, visualize, and FEEL him being happy, healthy, full of joy, and free.


Employ boundaries. Manage your own energy by deciding what is right for you in terms of things like communication, exposure, and setting. Set up your experience so that you do not feel depleted at the end of an interaction. If a conversation is wearing on you, excuse yourself and take a breather.


Remove yourself from the situation. There are some times where you might just have to remove yourself completely. This does not mean that you close off the connection of Love, but it does mean that you Love yourself enough to do what is best for you at the time. This could be temporary, or long-term, depending on the situation.
In order to show up as your best self and to be able to hold the energy and the light for someone else, you need to have boundaries. This is a dirty word to so many HSPs. It seems counterintuitive for so many of us who feel that it is our Purpose to help others to say, "That is enough" and stop a situation before our energy is sucked dry and we are depleted.
Boundaries are important, and it is equally important to remember that they are moveable. You can pick and choose where thy go and when they are needed and do not have to explain them to anyone else.
Trust me on this. I've tested it. As long as you put Love first (for yourself and others) things will always work out for the best.