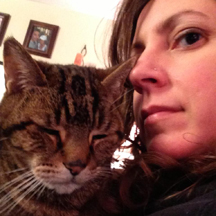 Originally posted on March 17, 2014
No amount of spiritual work can ever prepare you for losing those that you hold most dear. You can know intellectually that everything is ok, but that doesn't mean that it is not excruciatingly painful.
We mourn at times of death for many reasons, often the biggest one is that we cannot imagine moving forward without this person being around. The world feels like it has stopped turning,and seeing anyone going about their daily business can often be painful and confusing. How can you be doing that [insert mundane task here] when the world as we know it has changed?
Sometimes we mourn from the place of release. Often when a loved one dies, this moment has been preceded by a long stretch of failing health and increased time spent caring for this person. As awful as it feels to admit (and part of why we feel guilt), we might feel relief. This can be for any of a number of reasons, some of the biggest being relief that this person is no longer suffering, relief that we can finally express the anger/sadness/fear/confusion/weakness that we had been hiding from everyone else for so long while trying to be strong and "just get through this".
And sometimes, just sometimes, we mourn from a place of gratitude. Enough said.
Recently, my cat died. (I know to non-animal lovers this could sound a little crazy, so if that is the case, just skip a bit and resume reading when you see the bolded number 1.) He had been there for me, unconditionally, for the past 18 years. He was always gave me a ceremonial greeting and was elated that I was there, even when no one else was. He was there to love me up when no one else wanted to cuddle and would sit and listen to me for hours, purring, if I were in the mood to pontificate.
In the days before Sebastian's death, people would ask how I was. I would always reply, "broken," though I can't be sure if I ever said this out loud. Despite knowing what the "other side" is like, having studied non-attachment for lifetimes, and knowing that his transition would be peaceful and lovely, it was still the hardest time of my life. For a little while, I felt I could not be certain that it was the right time. Then, when it was obvious, I felt that I was losing a part of myself and that I would never be whole again.
I don't think it is fair that often we are responsible for the death of our animals. It brings with it layers of responsibility for things that we might not know anything about. I was angry. This was God's job and when I needed God S/He took the day off.
Here are some tools that I've learned throughout my life that have really helped me through this process. I want to share them with you, so that you will have them when needed.
No idea where to begin? Start here:
1. Feel the emotions. Allow the emotions to come up and be expressed. Yell at God if you need to, trust me, (S)he can take it. Weep openly in the middle of the street. Whatever it takes, let them flow through you and allow them to go. You don't need to hold onto them.
2. Release the guilt. Often, after a loved one dies, we feel tremendous guilt that we should have said, done, or tried to do more. Sometimes, we realize that we had a day or a string of days that wasn't quite as painful as we thought it would be. Suddenly we might feel some guilt for not missing them or stating in mourning as much or as long as we should. I am here to tell you that this is nonsense.
Time heals all wounds. As much as these trite sayings can infuriate us when we are in the midst of a crisis, they are all true. Each day will get a little easier.
3. Know that you will have setbacks. You wake up one day and are fine. In fact, you have been fine for a while now. Suddenly, you see someone wearing the brand of socks that your loved one always wore, or there is a dog that looks just the way your dog did. Your brain might now even register this stimulus on a conscious level, but suddenly the emotional floodgates are opened and you are crying your eyes. out. Return to #1 and allow the emotions to flow through you and out so you don't get stuck in them or stuff them down.
4. Be open to communication. Watch for signs. Very often you will get signs from the other side that are your loved one's way of letting you know that everything is ok. Sometimes, they happen immediately after a death, but we are too busy morning to be able to pay attention to them. Don't expect them to look a certain way, either. Be open to allowing communication to take the shape that it needs to take.
These are just a few ways that you can emotionally breathe through the loss of a loved one. It never gets easier, but knowing and accepting that life will go on helps us to keep putting one foot in front of the other. My heart goes out to all of you who have recently experienced loss. It seems that a great many beautiful souls have left the planet so far this year. Know that you are in my thoughts and in my heart.
These steps work for losses of all kinds—relationship break ups, divorces, employment. Use the tools provided as-needed.
Please, if you are stuck in depression or are having a really hard time coping with loss seek the support of a professional. We are not meant to walk through any of this alone.